CLP Series Cables
Connectivity for your CLP series radio has never been easier with Motorola cables. Whether you're in retail, hospitality or surveillance, it's easy to find the right fit to stay connected.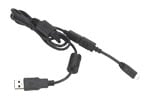 CLP Programming Cable
This cable attaches the Motorola CLP Two-Way Radio to a PC via USB for radio programming.


CLP Cloning Cable
This cable allows users to connect two Motorola CLP two-way radios and quickly copy the settings from one radio to the other.