GuestCall® CommPass
Paging System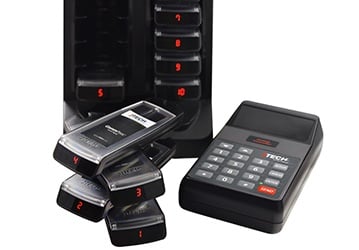 The GuestCall® CommPass Paging System includes:



10

GuestCall IQ® Pagers


1 NEO Guest Transmitter



1 CommPass Charging Tower (charges up to 20 pagers)

Our GuestCall® CommPass paging package is a powerful paging solution for guest waitlist management. With a brandable front display insert you can easily promote your businesses' services.
The CommPass 20-slot charging tower saves space and charges pagers in 4 hours without overcharging — saving the battery life of your pagers.
This paging system comes with the best-selling Neo Guest Transmitter which is perfect for restaurants and businesses that need a simple, fast and reliable solution.
Need more than 10 pagers?