From reservations to service, technology is present in nearly every aspect of restaurant management. Tech helps operations run faster, smoother and enables a more engaging experience for guests.
Reservations & Waitlist
Third party mobile apps already make it possible for guests to reserve at participating restaurants. And now, the software that manages these reservations is getting more sophisticated.
Thanks to smart integration, tracking wait times, table assignment and viewing various reports on traffic, turnover etc. are all automated.
DIY Transactions
People are becoming more comfortable with self-service. Most have scanned and bagged their own groceries at least once and everyone uses customer-facing credit card terminals. Restaurants are no different.
Restaurants are ditching paper checks and offering mobile credit card terminals instead. So, from start to finish, customers reserve tables from their phone, order food from a touch screen and finally check themselves out.
Guests are getting more "hands on" with their restaurant experience.
More restaurants are using mobile check out devices, eliminating the need for back-and-forth with the classic check binder.
Guest Engagement
Restaurants are embracing more interaction with guests when it comes to games, social media and targeted marketing via text messaging.
While a paging system is still popular with restaurant managers for a variety of reasons, texting is gaining traction with younger guests for waitlist management. Many people with a mobile phone prefer to use it — for everything.
So, when you use a text waitlisting app, you're notifying someone who is already engaged with their phone in the first place.
Social Media
Marketing-savvy restaurants are taking advantage of social media to engage customers. They are leveraging fans and followers by contests, special promotions and responding to restaurant reviews.
Chipotle uses a combination of text and social media for special promotions.
Entertainment
For large, busy spaces, restaurants provide tablets for individual entertainment, food ordering and payment. Simply pull up to the chair. Use the touchscreen for service and the person behind the counter will serve you.
Individual self-services stations provide an atmosphere where the guest is never without a digital screen. While they wait for their food, they can play trivia, gamble or just read the news.
The new disruption in the restaurant industry is "magic tables." Tap menus are being projected on interactive tables. Pictures, games, selfie shots, wall projections, videos, and a continuous stream of social media updates customers may feel like they are living a scene in the movie, The Minority Report.
Restaurant guests can order through a touch-screen projection on their table and even visualize what the food will look like on their plate!
Efficient Service
Hi-tech restaurants are improving their guest experience by more efficient service. Servers and wait staff are using sophisticated paging systems and even wearables to move quickly. With the Internet of Things, people expect infallible service on demand.
Expect to see more wearables by restaurant staff in the near future.
Robot servers are not quite there yet. A restaurant chain in Japan had to fire their robotic wait staff due to incompetence. They couldn't pour hot water or deliver soup very well.
Smart Integration
The key to making technology work well for you and your guests is smart integration. Use a combination of apps, paging systems and sms text to manage your guests and provide a smooth experience.
Visit our NRA Booth 6257 next week in Chicago and you could win a FREE integrated solution!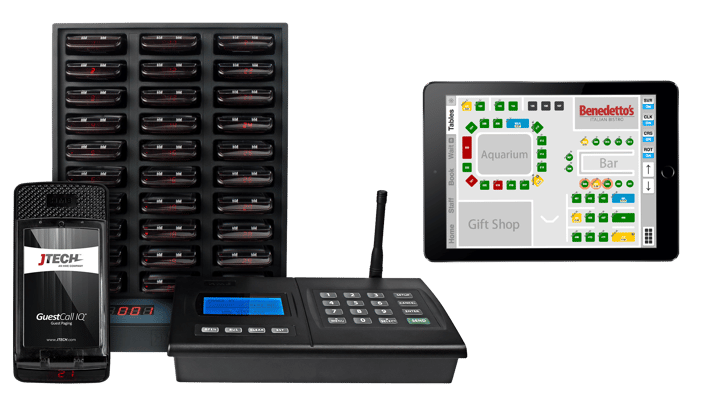 It's coming soon! NRA is next week. Visit us at booth #6257 and register to win:
FREE Integrated Paging Solution!
iStation Transmitter | 10 IQ Guest Pagers | IQ Charger
Plus
1 Year Host Concepts™ Subscription
* MUST Register for the drawing at the JTECH Booth 6257 during the NRA Show.
Winner will be notified following the NRA Show.
Need help now? Our experts are available to help you find a solution for your restaurant.