Radio frequency identification (RFID) tags are everywhere. Designed to quickly scan what it is and where it is, the technology is now being used for an ever-expanding list of situations. RFID-enabled gun safety products, rental cars, and even lost golf balls are a few clever uses.
Across a variety of industries, here is how RFID technology is being used in other surprising ways:
RFID For Retail
Smart Fitting Rooms
If you haven't already, you may soon be trying on clothes in a dressing room fitted with RFID kiosks. According to RFIDArena.com, retailers are requesting interactive dressing rooms. For a customized experience, your items are scanned to display product information, related items, and even collect feedback. As an added bonus, RFID dressing rooms offer a reliable anti-theft technology in the process.
Targeted Advertising
While not many of us have scannable retinas like in the movie, Minority Report, retail centers are taking advantage of information stored on RFID tags from our credit cards or membership cards. Based on your purchase history or personal information, you'll be spun a customized ad just for you.
(Speaking of credit cards, RFID technology can also help thieves. Keep your credit cards safe from scanners with RFID proof wallets designed to block the signal.)
The Battersea Dogs Home wants people to adopt dog's and cats from their shelter. It began a high-tech campaign with the advertising company Ogilvy and employed the use of RFID smart billboards. It started with volunteers giving out leaflets embedded with RFID Chips. The chips were synced to nearby billboards. When people with the leaflets passed by the billboards, a video of a dog following them prompted. The shelter re-homed over 3,000 dogs in 2014.
RFID For Being Social
Budweiser Buddy Cup
With the clink of a cup, the Budweiser Buddy Cup made it easier for people to stalk you by becoming instant friends on Facebook. Designed with a QR code and built-in chip that connects it to your Facebook profile, anytime you toast someone at a Bud-sponsored event they gain instant access to your Facebook life.
Budweiser's Buddy Cups uses RFID technology to make it easier to stalk people on Facebook.
Marathon Messages:
Race tracking is one of the most popular uses for RFID tags. Bibs or wristbands are embedded with unique IDs tracking the runner's time. However, as event technologies evolve, RFID is getting even more interactive.
In the lead up to the New York Marathon for example, friends and family could record messages of support for different runners. On the day of the event, the messages were triggered and played on large screens to encourage them.
RFID For Healthcare
Washing Hands
RFID is widely used by the healthcare field. From managing medication, optimizing hospital traffic flow to monitoring sophisticated equipment, the opportunities are endless. Now, medical facilities can check to see who is washing their hands (and who is not). Staff wear a wristband and RFID readers are positioned by the faucets.
RFID In Hospitality
Casino Chips
In addition to loss prevention, RFID embedded casino chips can be used to see how much you spend and where you spend it. This information is used for analytics and also to serve you well-timed drinks. And yes, If you're using high-rolling chips you can almost guarantee that a casino knows what you're up to.
Resort / Amusement Park Wristbands
Disney issues guests MagicBands, an RFID bracelet that opens your hotel door at Disney resorts, lets you into the parks and rides more quickly, and even pay for your meals on site. It also communicates with receivers hidden throughout the park to let Disney know what you're doing and where you're going.
RFID In Bars & Restaurants
Tracking The Tab
In Denver, the First Draft Taproom & Kitchen allows patrons to pour their own drinks, and RFID technology tracks how much they consume and keeps running tabs. When customers walk in, they use their credit cards to open a tab and present their ID. They are issued RFID-enabled cards that unlock and measure the beer tap.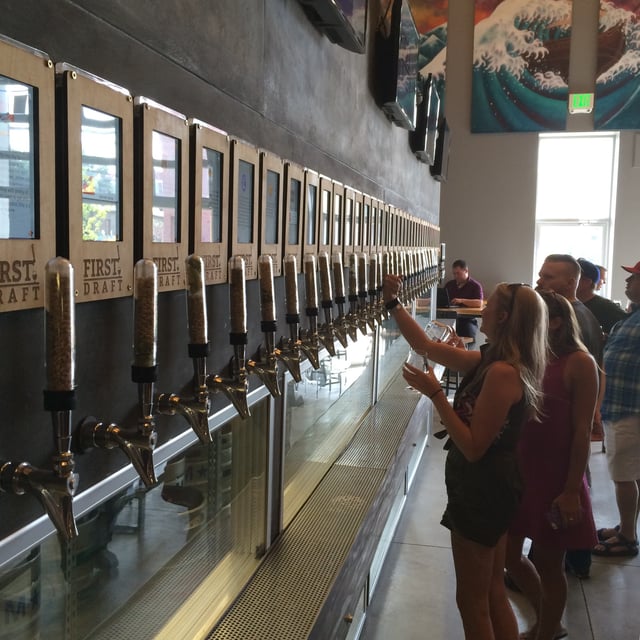 Other craft houses have adopted a version of this technology to allow guests to freely serve themselves.
RFID Guest Location
With active RFID technology, restaurants find guests by creating delivery zones like the bar or patio area to deliver food. Guests are given a tag with a unique ID and beacons are placed under tables or on walls to identify the guest's location.
JTECH's Vuze® Guest Location System uses the latest RFID technology to streamline food delivery and obtain valuable reporting. Ask us how you can use Radio Frequency Identification (RFID) to boost your guest satisfaction scores in the hospitality or restaurant industry.