JTECH & Ziosk Provide Manager Alerts To
Drive Guest Loyalty & Speed Table Turns
JTECH Integrates with Ziosk to Provide Real-time Notifications to Restaurant Staff:
Improve Guest Loyalty
Speed Table Turns
Enhance Your Guests' Experience
Manage Tablet Power & Paper Levels


How it Works:
Ziosk Pay-At-the-Table tablets send notifications to JTECH's CloudAlert that instantly notifies your staff via an IStation transmitter and StaffCall IQ pager when action is needed:
Ziosk Tablet is Out of Paper
Ziosk Tablet Power is Low
Poor Guest Survey Received



Learn more about JTECH's IStation, CloudAlert and StaffCall IQ




"Restaurants can turn a poor review into a 'saved customer' by alerting the Manager while the guest is still in the restaurant.

It's a WIN WIN for the restaurant and the guest!"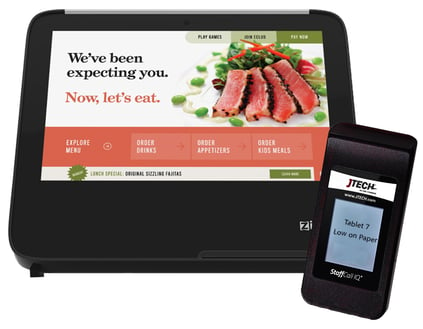 The Ziosk platform benefits for restaurants include: secure payment, operational and labor efficiency, actionable insights higher sales and increased guest satisfaction.
Ziosk offers a best-in-class solution including pay-at-the table, eclub/loyalty enrollment, ordering, guest survey, dashboards for guests insights and team performance and payment processing services.
Ziosk is Ideal For:
Full Service restaurants based in the US
Average Unit Volume of $1.5M; or,
monthly check count of $3,000 minimum
Compatible POS System:

Aloha v6.7, 12.3, or 15.1

MICROS RES 3700 v5.2 – 5.5

POSitouch v5.4 or 6.4


Contact us to learn more!