EasyAssist
Radio Call Button
Help your customers and employees reach you quickly with the EasyAssist Radio Call Button. Place this wireless call box anywhere on-site for pre-recorded two-way communication with one or multiple Motorola™ or standard UHF business radios.
Connect directly to your staff's designated Motorola™ radios with the simple press of a button. The large, attractive call button glows notifying the user that the call is active. Incredibly intuitive to operate —simply push to transmit and release to listen to the pre-recorded message! It's also easy to set up with direct programming on the EasyAssist call box or through your PC.
Ideal for retail stores, warehouses, hotels, hospitality centers, restaurants, healthcare and other locations where customers or employees need instant assistance.
Additional Features
1 Channel
Intuitive button is push-to-transmit and release-to-listen to a pre-recorded message — super easy to use.


Group Communication
Connect directly with one, five, tens, hundreds, thousands of two-way radios at the same with the simple press of a button.

Custom Message
Record your own custom radio message ("Assistance needed at the back door") and button message ("Someone will be with you shortly").

Adjustable Volume Control
Determine the best volume for your business —whether you work in a noisy environment like a warehouse or a quieter one such as a clinic.


Glowing Call Button
Call button glows when the call is active letting the user know they are engaged in communication.
Easy Programming
LCD menu programming on EasyAssist call box or from your PC. Lockable interface prevents tampering.
Radio Frequency
User selectable frequencies (452Mhz- 470Mhz)

Works on any Motorola™ Radio

or other UHF analog radio on the same frequency

System only transmits when channel is clear
Range: 1/2 mile
Battery
LED (6 AA) replaceable batteries

Battery life: 1 year

Low battery radio message
Notifications
Customizable messages (local, radio, auxiliary and low battery)

Full analog and digital codes (CTCSS 1-121)

Illuminated button with slow glow
Compatibility
Works with any UHF analog radios that are programmed on the frequency range of 452-470 MHz

Use on unlimited number of radios
Installation
Wall Mount-Ready (optional mounting bracket)

Pole Mount Ready (optional mounting bracket)
No tools required
System Display
Push for Assistant Notification

Customizable graphics (3 included)

LCD screen for easy user-programming
Length: 7.61 inches
Width: 4.56 inches
Height: 1.52 inches
---
Motorola™ Radios
Try these Motorola two-way radios with your EasyAssist Radio Call Button: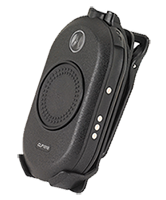 Need an Expert
Let one of our Customer Success Managers help you build a warehouse, manufacturing or logistics system tailored to your specific needs. We can provide you with multiple options and a quote with quick shipping and expert 24/7 support.