HostConcepts®
All-In-One Solution


Waitlist with Unlimited Texting
Tap-Ahead™ Seating
Reservation Management
Table & Server Management
HostConcepts® is an all-inclusive solution for restaurant table and waitlist management.
Manage your waitlist, track reservations, and optimize table and server management with ease. Stay connected to your guests via unlimited text. Add a JTECH Guest Paging system to ensure you stay connected to all your guests via their preference.
With HostConcepts, easily manage your front of house and provide the best guest experience with the flexibility to choose the features that meet your business' needs.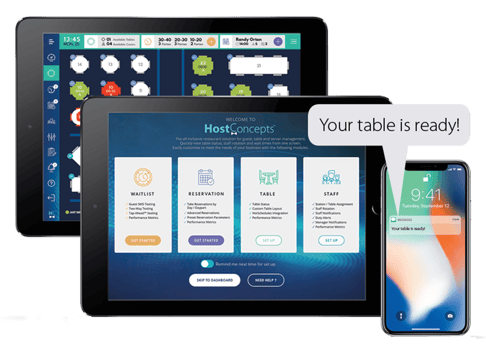 Features
Waitlist & Unlimited Texting
Text guests a reservation reminder 24 hours in advance and send texts when their table is ready.


Tap-Ahead™ Seating - Virtual Queue
Add a TAP-AHEAD™ link to your website or mobile app to enable guests to conveniently add themselves to your waitlist. Ideal for restaurants, pharmacies, salons or anywhere that could benefit from automating the task of adding clients to a waiting list or having them stand in line just to be added to a list.

Reservation Management
Manage guests' reservations and send text confirmations and reminders.

Your team can easily manage reservation changes within the HostConcepts app or your guests can modify their reservations from their smartphone.


Reduce no-shows, voicemails and follow-up calls and keep your team focused on serving guests.
Table Tracking
Easily update table status and availability to seat guests quickly for an optimal guest experience.

Table Assignment
Quickly assign servers to sections, pre-plan staff shifts, track server rotation and view table history.

Social Distancing Management

Track dine-in guest occupancy and maintain Guest Contact Tracing Logs with HostConcepts Waitlist & Text.
Learn More
HotSchedules Integration
Has the ability to pull in schedules from HotSchedules to quickly view employee work schedules.


Offline Mode
Ensures you don't lose important information on your waitlist if your restaurant's internet connection is interrupted. Continue to access guest reservations and waitlist to keep things rolling smoothly.


Transmitter
Integrates with JTECH Pagers
Admin Reports
Table seating time

Turnover rate

Customer rating
Interfaces
Hot Schedules

JTECH onsite Paging System
Widgets
Reservations

TAP-AHEAD™ Seating
SMS Texting
Send unlimited SMS (only available in North America. International coming soon.)

Supports 2-way text responses

Outgoing texts via Wi-fi
Data
Export to .CSV

Store level reports