Server Paging Systems
Front-of-House and Back-of-House Unite
When your staff is super connected, your restaurant almost runs itself. With a server paging system, the front-of-house and back-of-house are harmoniously connected. No more yelling across the kitchen, depending on word-of-mouth, or hoping the servers didn't miss the chalk board lists of items you've run out of of on a busy night.
Save on labor and maximize staff and server productivity. With a server paging system, you can do more with less and everyone's job becomes easier, more efficient and less stressful.
Bring your team together.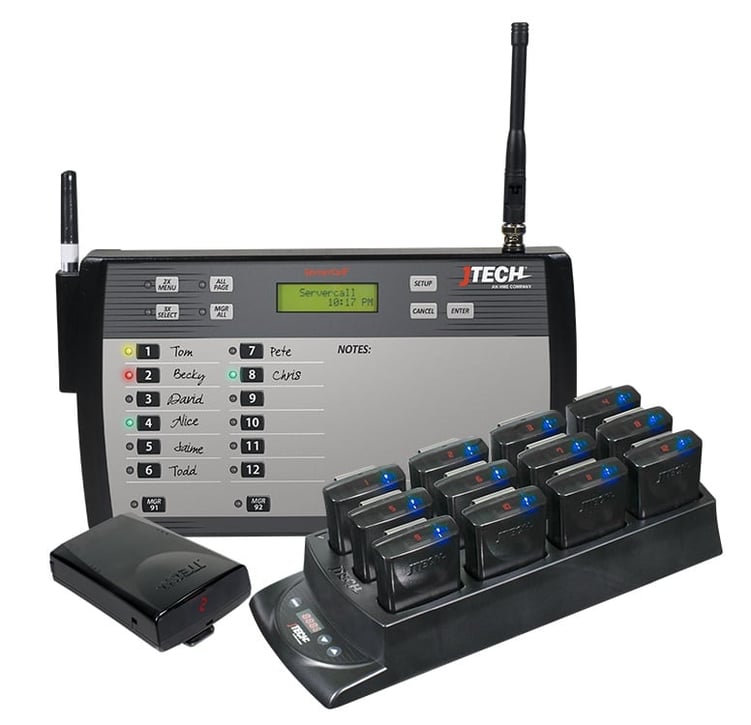 Popular server paging system: Our ServerCall® Kitchen Transmitter & Rugged Staff Pagers
Your waitstaff plays a crucial role in guest satisfaction and productivity. Use our server pagers to run your business efficiently and make your restaurant shine.
Staff and server paging systems are an essential part of effective communication on your team. Quickly alert waitstaff, hostesses, managers, kitchen staff, cooks and more.
Whether you need to quickly address maintenance, food or guest status, our waiter paging systems streamline the workflow in your bar or restaurant.
Server & Manager Restaurant Pagers