QR Code Staff Notification System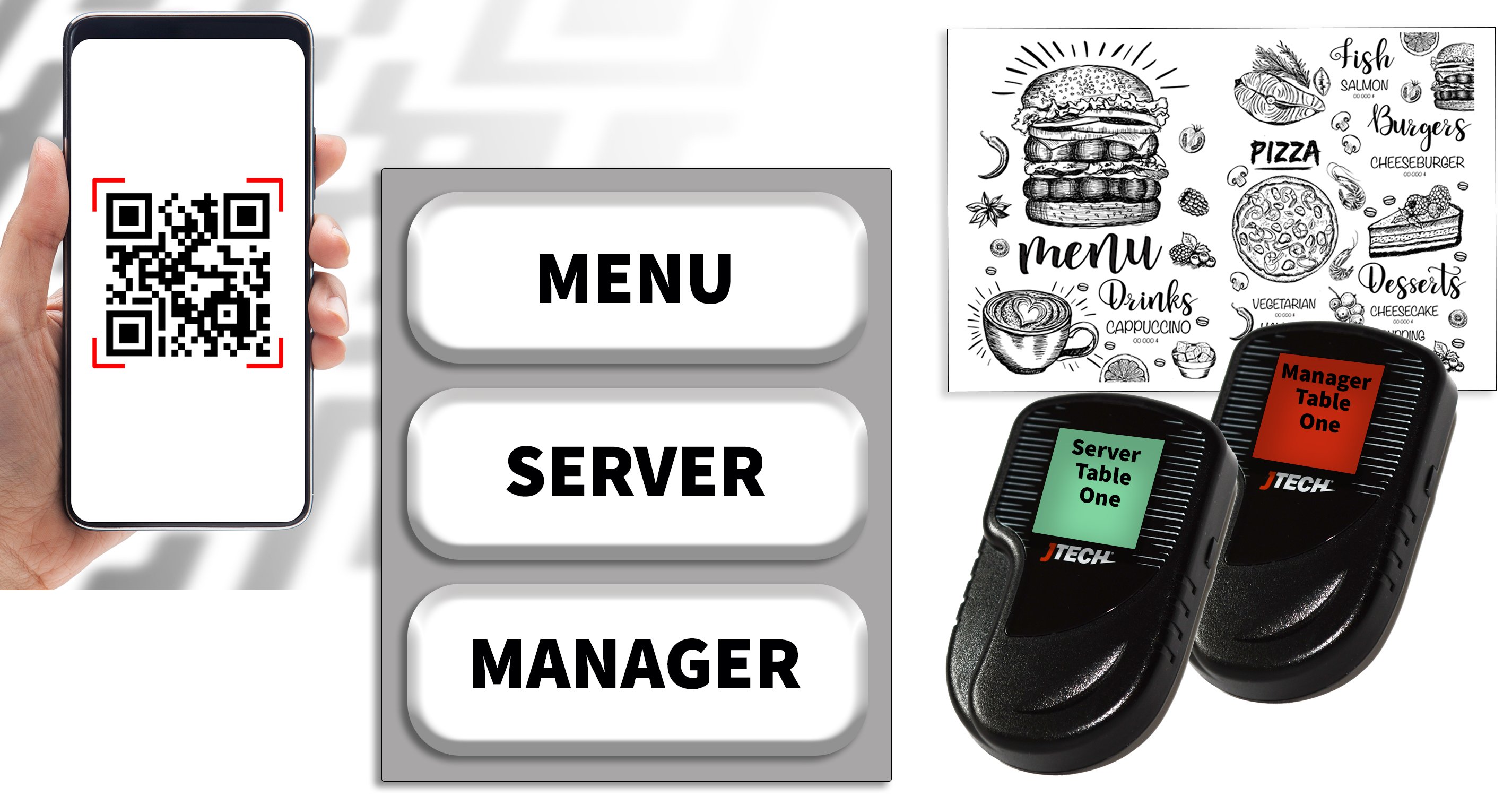 By using QR Code signage and your customer's smart phone, you can create an amazing customer experience anywhere in your business. Places that historically were impractical for physical push buttons can now put a personal kiosk for service requests at guest's fingertips.
Easy to use dashboard
Turn buttons on and off based on needs
Clone setup for similar buttons
Optimize operations with analytics
Filter by Date Range
Track effectiveness of each button and QR Code
Tiered drill down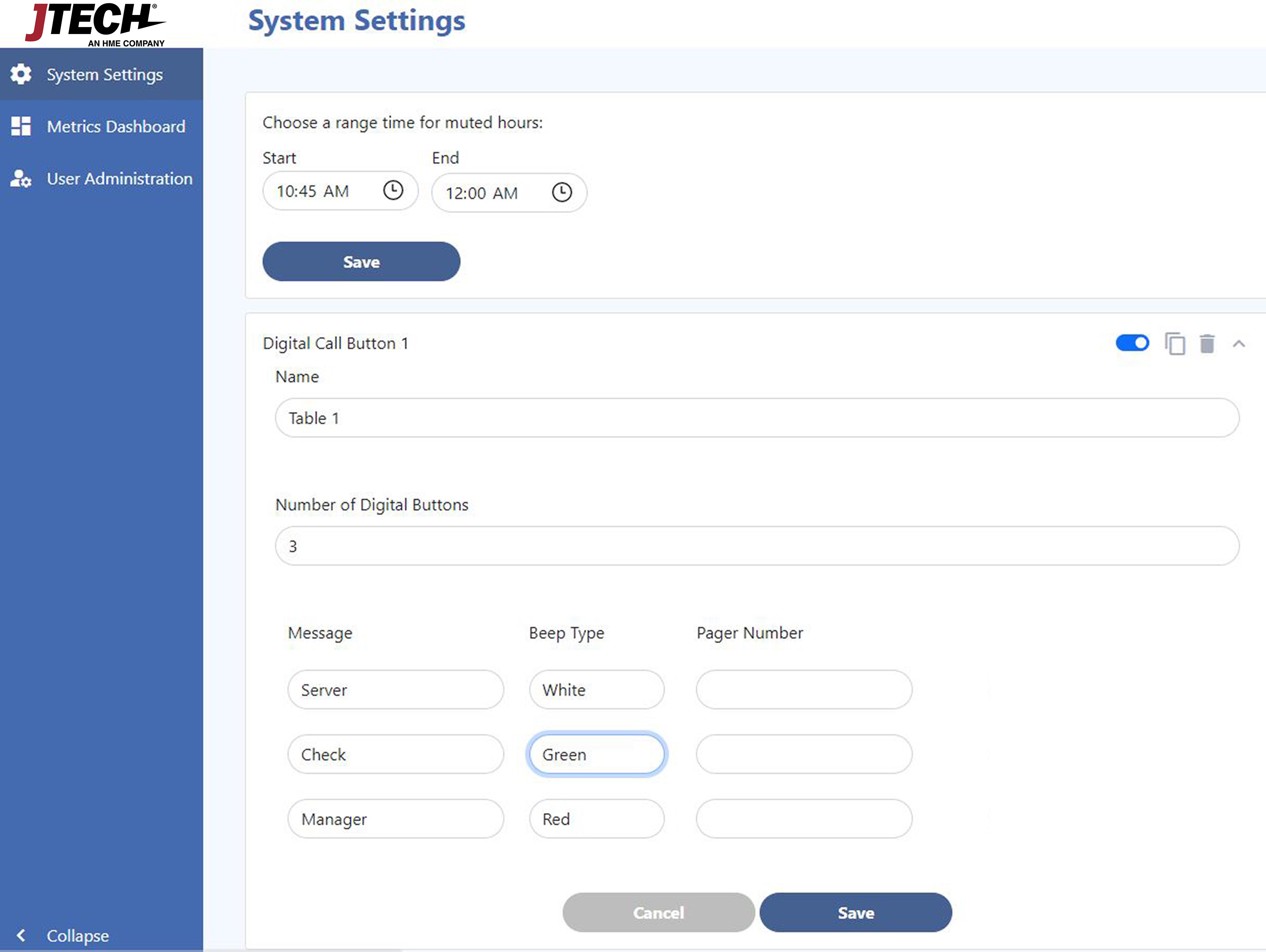 Your staff will be at your guests' service in the blink of an eye. Turn tables faster and create a better customer experience. With up to five customizable virtual push buttons, your customers can call for their server, the manager or a host/hostess. Buttons can be programmed for specific services such as wine recommendations by a sommelier, attendance to a fireplace, help in a gamer room/playground or a busser to clean a table.
Buttons can also be redirected to external links such as on-line menus or merch stores.
Implement our QR activated digital call buttons for beach and poolside service where a traditional battery operated push button is not practical. Increase drink and food tickets without your servers having to constantly walk the property. This is also a great solution for other areas of a resort or hotel such as meeting rooms, lobbies and exercise facilities. Virtual call buttons can be used to page staff directly to guest rooms to request housekeeping, concierge and porter services.
JTECH has always been a leading provider of call button paging systems for clinics, optometrists and doctor's offices. Although traditional physical buttons are a great solution for paging lab technicians, nurses and doctors, our new button paging notification system provides additional flexibility without complicated reprogramming. Other areas that did not have paging buttons in the past can now easily give patients a smoother visit. For example: insurance consultant, custodian, check-in and restrooms.
The technology stack for a country club can be very complicated. With so many activities spread over such a large amount of space, our Virtual Service Kiosk call button notification system is the perfect addition. Whether your guests are poolside, on the 9th hole, on the tennis courts or in a conference room, you can create a combination of call for service buttons that are diverse enough to handle even the most discerning members.
Staffing a salon or spa can be a complicated job. Use the JTECH QR Codes to present a screen of button choices that will get your clients to the right staff member. Whether they need to add their name to a waitlist for a mani-pedi or haircut or they are requesting assistance in a locker room, you can program the buttons to your exact business model.
There are so many applications for push for service in the retail industry that we probably missed a few. The flexibility of posting a QR Code and then setting up the corresponding buttons and pages makes our solution perfect for providing the ideal shopping experience with minimal staff.
Department Stores and Boutiques
Fitting Rooms
Cosmetics Counters
Personal Shopper
Appointment Arrival
Locked Display Cases
Shoes
Restrooms
Order Pickup
Grocery
Meat, Cheese, Deli Counter
Bakery
Floral
Pharmacy - Pickup/Vaccine
Aisle Assistance
Home Improvement/Decor
Heavy Items/Loading
Garden Center
Design Assistance
Pickup
Tool Rental
Depending on the surface you choose for your QR Codes, you can make them warehouse and manufacturing floor tough. Corresponding virtual buttons can be used for truck arrival/check-in, gates, parts requests, technical support, reception and call for manager or custodian. The person wearing the pager will know exactly what is needed and where to go with the tap on a smart phone.
Owners and guests can discreetly call for service to all areas of an estate or yacht. With up to five different mobile service buttons, the needs of the client can be personalized for almost any scenario.
Getting Started
After we receive your order, you will receive your physical hardware as well as a Welcome Email. The Welcome Email will include an attachment with your QR Codes as well as the credentials needed to log in to the Dashboard.
QR Codes can be printed on any number of services to suit your needs. Once in place, all your guests and clients need is a smart phone that can scan a QR Code.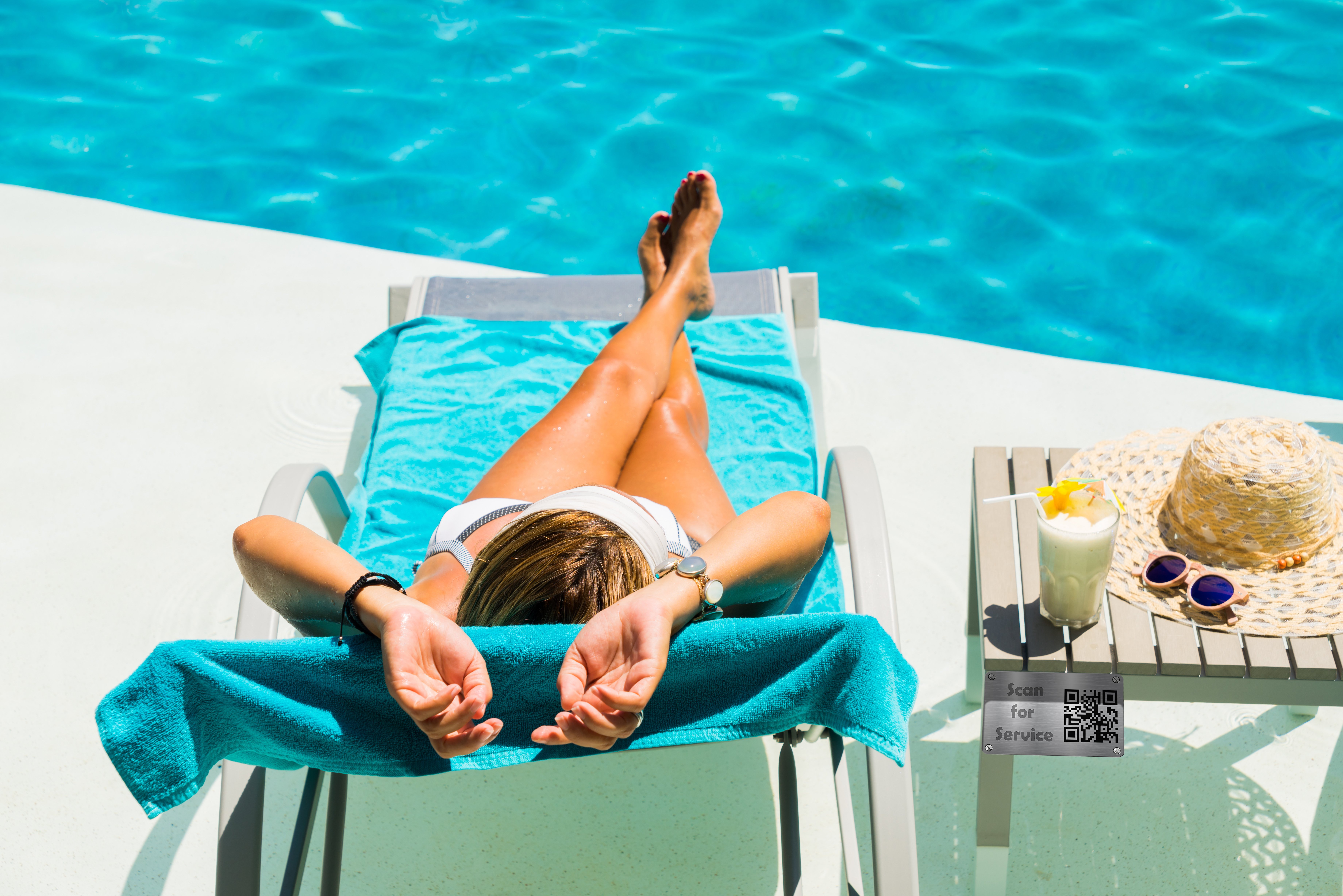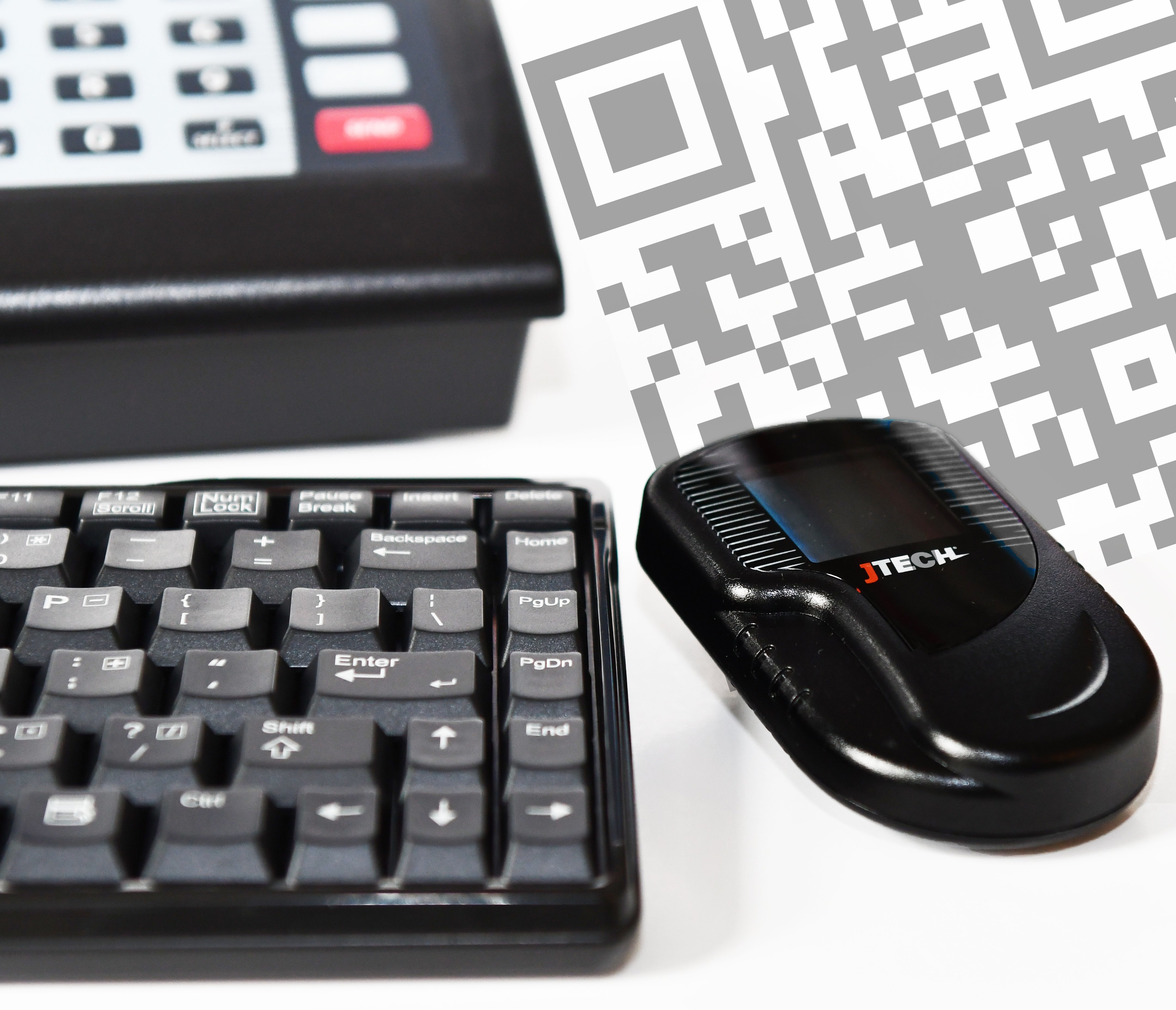 What is included?
Specified number of QR Codes (provided as PNG Files)
Specified number of SmartAlert Pagers
IStation Transmitter
Charging Unit (holds six pagers)
Repeaters for additional coverage (optional)
Plans & Pricing
We have four different plans to suite your needs. If you need virtual QR buttons for 100 or more locations or need help deciding, contact our customer success team to pick the best solution for your business.
* Set includes QR code image file and a corresponding set of 1-5 virtual buttons. Subscription is set for yearly auto-renewal. Additional sets may be added at any time by upgrading to the next subscription level. To downgrade to a smaller level, please contact us in writing and you will be contacted at the time of your next renewal to deactivate sets. Hardware not included.
A simple user dashboard is included with the Virtual Service Kiosk System. The web-based app gives the administrator the ability to program the virtual buttons that match each QR code. Whether all of the QR codes have the same buttons at different locations, or each QR code needs it's own specific program, the application makes it quick and easy. If you ever need to change the setup or even disable a button due to seasonality, weather, etc. it can all be done easily from the dashboard. Buttons can call a pager or can be directed to a URL of your choice.
Track the effectiveness of each digital push button with the included Metrics Dashboard. Select a date range and then the analytics tool provides a tiered drill down of total presses, total by QR code and total by each button at each location. Use this detailed reporting tool to pivot the use of the buttons as needed.
This added functionality to your technology stack can solve many of your communication problems.
Need an Expert
Let one of our Customer Success Managers help you build a warehouse, manufacturing or logistics system tailored to your specific needs. We can provide you with multiple options and a quote with quick shipping and expert 24/7 support.