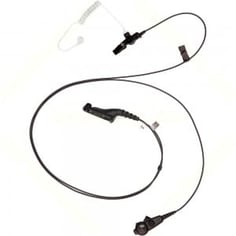 Motorola (Otto) CLS V1 Two-Wire
Surveillance Headset
Two-wire earpiece with a combined microphone and push-to-talk (PTT) transmit and receive capability. Includes a clear acoustic tube and rubber eartip for extended wear comfort. Available in black or beige.


---

Motorola CLP Bluetooth Pod with Earpiece
The Motorola Bluetooth Pod (HKLN4512) and Swivel Earpiece (HKLN4513) are direct Motorola replacements for the standard CLP1060 BlueTooth Pod with Swivel Earpiece included with the CLP1060 radio at time of purchase.
---
Motorola CLP Bluetooth Swivel
Earpiece Replacement
The Motorola (HKLN4513A) is the standard earpiece included with the CLP1060 BlueTooth Pod. It's Ideal for multi-shift operations, as spares or as a replacement.
---