Coaster Call Buttons
JTECH wireless push buttons deliver immediate and complete messages to on-site staff members O

ur long range, reliable wireless call buttons are ideal for quick, high volume, one-way communication.

Offering the best range and coverage in the industry o

ur push button paging systems are great for restaurants, retail, grocery stores, manufacturing facilities, church and school classrooms, stadiums, arenas and more.



Learn More
1 & 4 Call Buttons
Instantly contact staff with our long range, reliable wireless call buttons. Our push button transmitters are ideal for quick, high volume, one-way communication. Get the right message to the right person at the right time. Our 1 and 4 Call Button pagers allow you to immediately locate & communicate with staff for optimal responsiveness.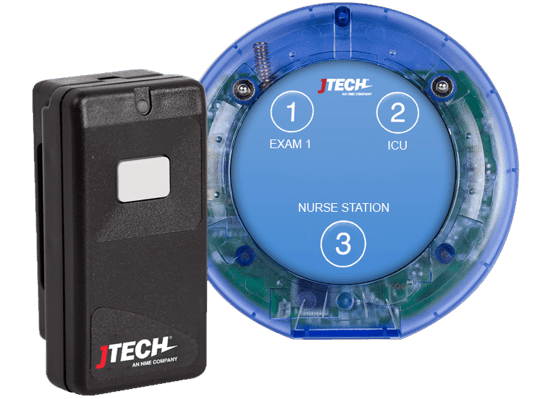 Healthcare Call Buttons
Our durable healthcare push button paging systems are great for medical offices, individual and multi-provider practices including clinics, dental care and eye care offices. Discreetly get the right message to the right person at the right time. Improve staff efficiency and patient care. Choose between 1 or 3 Call Button options that offer the best range and coverage in the industry with 12 FCC Shared License Frequencies for "Hassle Free" legal operation with no interference.

Learn More - Coaster Call Buttons
Motorola Radio Call Button
Customers and employees can quickly request staff assistance with the EasyAssist Radio Call Button. Place the Motorola wireless pager button anywhere on-site and customers and staff can simply press the button to send a pre-recorded message to one or multiple staff members' Motorola™ radios.
Need an Expert
Let one of our Customer Success Managers help you build a warehouse, manufacturing or logistics system tailored to your specific needs. We can provide you with multiple options and a quote with quick shipping and expert 24/7 support.