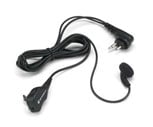 Motorola CLS Earbud with Clip PTT & Microphone
Push-to-Talk button (PTT) on the headset means you can communicate without handling the radio. The clip attaches to a collar or sleeve.

Two-wire earpiece with a combined microphone and push-to-talk (PTT) transmit and receive capability. Includes a clear acoustic tube and rubber eartip for extended wear comfort. Available in black or beige.