QuietCall IQ® Pager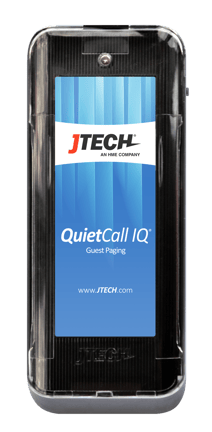 JTECH jumps ahead of the line with the QuietCall IQ® paging system — a forward leap in technology that sets a new standard for patient flow management.
QuietCall IQ paging system on-site management provides time and money savings that will forever change the way you renumber and program patient pagers. QuietCall IQ® pagers are rechargeable and the battery is user-replaceable.
Chargers come with 30 and 60 pagers charging capacity. Transmitters have a range of up to 2 miles so patients can roam comfortably in any setting.
UHF Technology
Up to 2 miles range with a unique ID to prevent signal interference.
Industry Tough
Built with high-quality materials for maximum durability and industry leading performance.
User-Replaceable Batteries
Replace your own batteries to reduce downtime and cost.
Smart Alerts
Out-of-Range and Search ensures contact with staff and guests.
Flexible Integration
Our pagers integrate with many industry-standard software such as EMR (Electronic Medical Records) for the medical industry, for example.
Optional Staff Pagers
Staff can choose between alpha text, numeric or rugged rechargeable pagers.
Flash, beep, vibrate
LED digital number
Auto-programmable pager renumbering
Blue / red contrast for accessibility
Rechargeable Battery
Lithium Ion

User replaceable battery

Indicator light while charging or when needs replacement

2-3 year pager battery life (dependent on use)
Transmitters
Alerts
Out-of-Range alert ensures patient contact

Search alert locates missing pagers with the touch of a button
Charger
30 & 60 Pager Capacity

Charges all pagers in 4 hours

Extends battery life without overcharging
Long Range Technology
UHF Frequency

Unique System ID eliminates interference

Up to 2 miles of site coverage

QuietCall IQ®
Pager
Length: 2 inches (10.79 cm)
Width: .7 inches (10.79 cm)
Height: 5.1 inches (2.03 cm)
Weight: 0.30 lbs (0.17 k)
QuietCall IQ® Charger
Length: 8.5 inches (10.79 cm)
Width: 6.1 inches (10.79 cm)
Height: 15.6 inches (2.03 cm)
Weight: 0.30 lbs (0.17 k)
---
Manager Pagers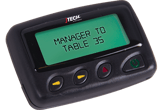 Need an Expert
Let one of our Customer Success Managers help you build a warehouse, manufacturing or logistics system tailored to your specific needs. We can provide you with multiple options and a quote with quick shipping and expert 24/7 support.