Rugged Pager


Restaurant S

taff Pager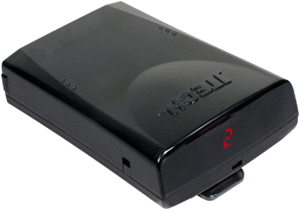 Our Rugged Pager is built to last and extremely reliable. The set-up, maintenance and programming is quick and easy.
The Rugged Pager is perfect for large teams. With programmable alert types, you can choose from a combination of vibe, flash or beep.
UHF Technology
Up to 2 miles of line-of-site coverage with unique ID to prevent signal interference.
Restaurant Tough
Built with high-quality materials for maximum durability and industry leading performance.
User-Replaceable Batteries
Replace your own batteries to reduce downtime and cost.
Smart Alerts
Out-of-Range and Search ensures guest contact and minimizes pager loss.
Flexible Integration
Third-party POS and KDS system integration capability.
Optional Manager Pagers
Managers can choose between alpha text, numeric or rugged rechargeable pagers.
Alerts
Flash, Vibe or Beep
Vibe / Flash
Vibe / Beep
Flash / Beep
Vibe / Flash / Beep
Out-of-Range Alert
Rechargeable Battery
Nickel Metal Hydride (NiMH)

User replaceable

Indicator light while charging or when needs replacement

2-3 year pager battery life (dependent on use)
Transmitter
Backlit for enhanced visibility

Supports up to 9999 pagers

Built "restaurant tough" for maximum durability
Belt Clip
Metal smooth edge

Plastic spring clip
Charging
6 Slot Power Charger (connect multiple Power Chargers via jumper wire for expanded capacity)

12 Slot Programmable Charger

Charges all pagers in 4 hours

Extends battery life without overcharging
Extended Range Technology
UHF Frequency

Unique System ID eliminates interference

Up to 2 miles of site coverage

Length: 3.1 inches (7.8 cm)
Width: 2.2 inches (5.5 cm)
Height: 1.2 inches (3 cm)
Weight: 0.1 lbs (0.45 k)
---

6 Slot Rugged Pager Charger
* Not Programmable. Works on current Rugged pagers, not backwards compatible.
6 Slot Power Charger
Length: 6.1 inches (15.4 cm)
Width: 4.5 inches (11.43 cm)
Height: 1.8 inches (4.5 cm)
Weight: 1.3 lbs (.60 k)
---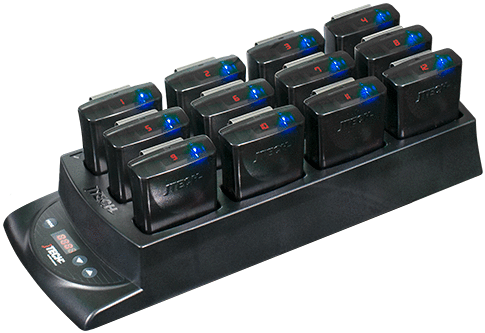 12 Slot Rugged Pager Charger
* Programmable

12-Slot Smart Charger
Length: 12.2 inches (30.9 cm)
Width: 4.5 inches (11.43 cm)
Height: 1.8 inches (4.5 cm)
Weight: 2.3 lbs (1.04 k)
---
Manager Pagers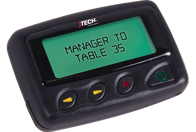 Need an Expert
Let one of our Customer Success Managers help you build a warehouse, manufacturing or logistics system tailored to your specific needs. We can provide you with multiple options and a quote with quick shipping and expert 24/7 support.