Alpha-Numeric & Numeric Pagers
Manager & Staff Paging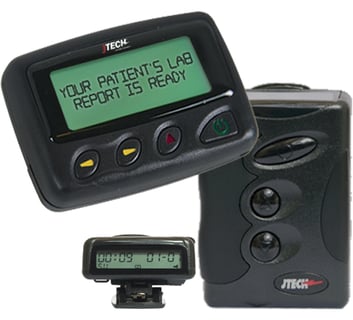 Instantly notify managers and staff with text or numeric messaging on our alpha-numeric and numeric pagers. Easily stay updated with critical information whether you work in hospitality, healthcare or a church nursery.
The alpha-numeric and numeric pagers are durable and reliable and AAA batteries that you can replace yourself. No need for charging stations.
The alpha-numeric pager is ideal when you need to send detailed messages to managers and staff. Save and scroll messages as needed on an easy-to-read side mounted LED screen.
The Numeric pager offers numeric messaging if you need to send phone numbers or codes related to specific tasks and actions. Quickly view numeric messages on the top positioned screen without removing the pager from the belt clip holder. This is ideal for healthcare, childcare and veterinary clinics or anywhere hands free viewing is needed.


The Alpha-Numeric Pager is a popular choice for staff and management on the go.
UHF Technology
Up to 2 miles of line-of-site coverage with unique ID to prevent signal interference.
Durable
Built with high-quality materials for maximum durability and industry leading performance.
User-Replaceable Batteries
Replace your own batteries to reduce downtime and cost.
Smart Alerts
Out-of-Range and Search ensures contact. Choose silent, vibe or beep to recieve notifications.
Flexible Integration
Third-party POS and KDS system integration capability.
Optional Manager Pagers
Choose between alpha text, numeric or rugged rechargeable pagers.
LED digital number and/or letters
Backlight
16 Message Memory
Lock up to 10 Messages
Battery
1 AAA Battery

User replaceable

Indicator light when needs replacement
Alerts Types
Belt Clip
Plastic smooth edge

Spring loaded
Extended Range Technology
UHF Frequency

Unique System ID eliminates interference

Alpha-Numeric Pager
Length: 1.5 inches (3.81 cm)
Width: 2.5 inches (6.25 cm)
Depth: 0.5 inches (2.03 cm)
Weight: 0.10 lbs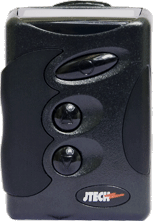 Numeric Pager
Length: 2.5 inches (3.81 cm)
Width: 1.5.5 inches (6.25 cm)
Depth: 0.5 inches (2.03 cm)
Weight: 0.10 lbs
---
Staff Pager Options




Need an Expert
Let one of our Customer Success Managers help you build a warehouse, manufacturing or logistics system tailored to your specific needs. We can provide you with multiple options and a quote with quick shipping and expert 24/7 support.