Making Curbside Delivery Cool & Customers Happy
Milano's Pizza has always been grateful for their customers and community and continually look for ways to provide the best pizza and a great guest experience.
As the Flushing, Michigan location's carryout business grew, owner David Anter knew he needed to find a way to quickly identify customers arriving to pick up their order so his staff could be more efficient, save steps and provide great service.
JTECH's FindMe with Arriva was just the solution for easy customer check-in and order delivery. When customers arrive to pick up their order they simply pull into one of Milano's 6 pickup lanes and scan the QR Code or text the keyword to open a screen on their smartphone. They then enter a description of their vehicle and payment preference which is immediately sent to the curbside staff via pager so they can take action right away.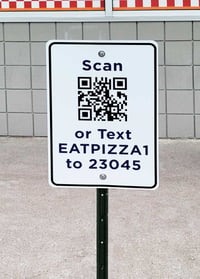 "The customers love the speedy service and think the technology has a "cool factor." It also saves the staff steps as they can anticipate cash or credit payment in advance. All the staff and our guests absolutely love the system! It has really organized our curbside delivery and has improved service tremendously. We have two other locations that we will be setting up soon", said David Anter.
By using technology to meet customer's expectations Milano's has not only made their customers happy but are able to grow their business while keeping costs down.
Learn more about JTECH's FindMe with Arriva curbside management.
Greet guests upon arrival

Optimize staff needed to manage curbside services

Guests or patients provide the exact information your team needs

Easy for guests - no app installation required

Deliver orders and service fast and accurately

Quick set up and self-installation


Let Us Help You With Your Curbside Delivery