The IStation Transmitter is our most robust transmitter. Designed for quick and easy coordination of front-of-house and back-of-house operations.
The IStation makes data logging effortless for capturing useful analytics such as wait times, peak hours and communication patterns. Integrates with pagers, HostConcepts™ Waitlist App

and

popular 3rd party KDS or POS systems like MICROS, NCR Aloha, QSR, DineTime, Brink, PAR and more! IStation Master Controller is network addressable with repeater, teleconnect and page-by-phone capability. Privacy and hard-to-reach areas are easily solved with the IStation.


Easily Integrate IStation with other paging systems and software applications for complete control over your business.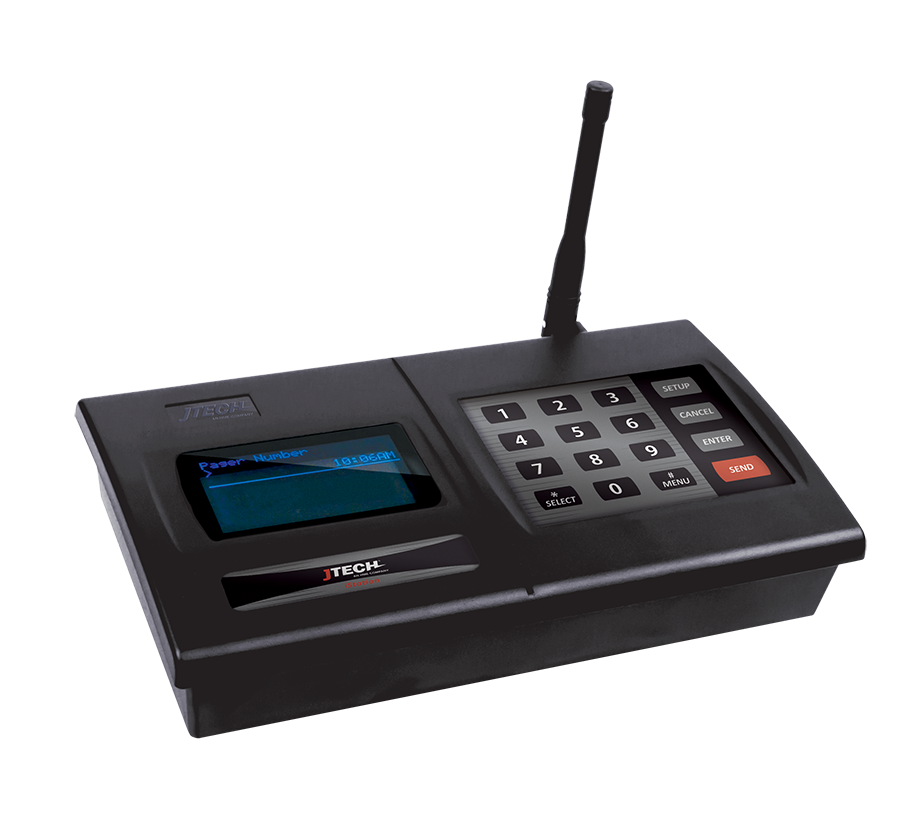 Turn email alerts to SMS text and pager messages to instantly alert your staff, servers and managers when action is needed.

S

ync the IStation

to enable guests to put themselves on your waitlist with TapAhead Seating,

send guests alerts, track reservations, manage seating, staff and more!

Use direct-to-SMS texting or any of our GuestCall® pagers to notify guests that their table is ready.
Send

alpha-

numeric text and notifications to pagers to quickly notify staff.
Service & Alerts -
table status alert system to speed table turns.
POS and KDS Flexible Integration
Third-party POS and KDS system integration capability.
Data Logging
Track and store useful data such as wait times, peak hours and pager communication behavior to streamline operations.
Display
2 x 3 inch 8 line display
Blue LED backlit digital screen

Water-resistant polyurethane
Electrical
Frequency range: 450 - 468 MHZ
FCC Identifier: WDC-ISTATION-N
IC Identifier: 7752A-ISTATION-N
Channel Spacing: 12.5 KHz

Baud Rate: 512/1200 bps
Interfaces


Serial: DB9- DCE (female) Connector
Data Rates: 1200, 9600, 38400, 57600
Characters: 8 Data Bits
Stop Bits: 1
Telco: RJ11 4-pin connector to PBX


Network


Interface: Ethernet 10Base-T
Connector: RJ45
Protocols: TCP/IP, ARP, ICMP
Indicators (LED): Link & Activity

Management: SNMP, Telnet, Serial, Internal Web Server and Windows based utility for configuration.
Power


DC 12V, 3.5A, SMPS
RF Output (Watts): 2 Watts

Paging format: POCSAG
Extended Range Technology


UHF Frequency
Unique System ID eliminates interference
Up to 2 miles of site coverage

MultiCast Routing
Connect multiple IStations to extend your coverage.

IStation Transmitter
Length: 9.37 inches (23.7 cm)
Width: 5.5 inches (14 cm)
Height: 1.75 inches (4.3 cm)
Weight: 1.6 lbs (0.72 k)




Optional Keyboard
Send messages to guests or staff pagers or SMS text.
Need an Expert
Let one of our Customer Success Managers help you build a warehouse, manufacturing or logistics system tailored to your specific needs. We can provide you with multiple options and a quote with quick shipping and expert 24/7 support.