New Features For IStation: Data Logging and Instant Email-To-Page Notifications
JTECH's most robust integration and messaging platform, the IStation Master Controller has launched two new features: Data Logging and CloudAlert™. Managers and staff can now receive notifications via pager when they receive specified time-sensitive emails. Capturing data allows industry pros to make informed decisions about wait times, peak hours and more.
Busy restaurant servers and managers often do not have access to their email. We found a simple and effective way to reach them instantly.
Call now to find out more about CloudAlert™
"Busy restaurant servers and managers often do not have instant access to their email," says Scott Hubbard, Product Manager for JTECH. "We found a simple and effective way to reach them instantly when they are on the floor so they wouldn't miss an online food order or any other time-sensitive email."

CloudAlert™ works with any event or service that sends an email. When an email is received, it triggers the IStation controller to immediately alert managers or staff via pager.
For restaurants, this bridges the gap for third-party online food ordering services such as Olo, BeyondMenu and DoorDash who use email to let the restaurant know when a food order has been placed.
The mobile world has fueled the online food ordering revolution. Restaurants are increasingly looking to technology to keep up with guests' expectations. Restaurants are increasing guest loyalty and extracting higher sales by allowing customers to order food remotely, pay for the items on their phone, and pick up their order.
CloudAlert™ picks up where many order-ahead apps drop off: instant communication to the servers and manager via text and pagers. While many restaurants will use this new feature to quickly notify staff for take-out and delivery orders, other businesses such as airports and retail stores will also find it useful.
Select grocery stores, for example are allowing mobile orders to be placed from their app. With CloudAlert™, busy store clerks can be alerted when a customer places an order and be prepared for when they swing by the brick-and-mortar store to pick up their order from the curbside.
JTECH's IStation is a robust transmitter for waitlist management supporting pagers, SMS texting and now, data logging. As restaurants grow, logging and capturing data are key to improving the customer experience.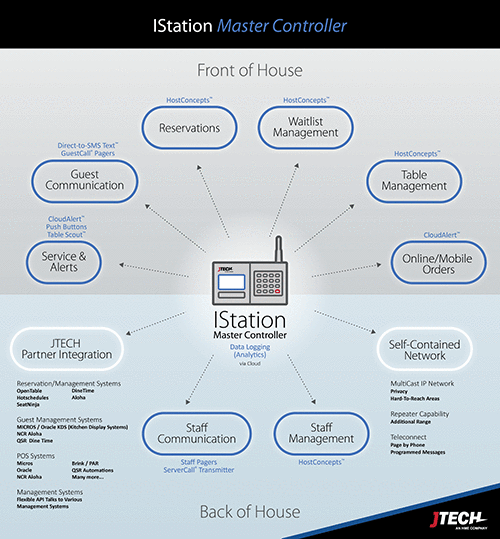 About JTECH
JTECH is a wholly-owned subsidiary of HM Electronics, Inc.(HME) and has been combined with HME Wireless to create the largest onsite paging company in the world. JTECH provides integrated guest management and paging solutions to a host of industries worldwide.