Find Your Guests Fast with
Vuze Table Location

With Vuze guest tracking, you can easily customize the system to improve guest experience and gain valuable insight on traffic.
The Vuze® Table Location System from JTECH is a seamless RFID table tracker ideal for restaurants and hotels.
Vuze reporting lets you analyze performance speed and take action where needed. Get dynamic reporting to spot volume trends at a glance.
Additional Features
Active RFID Technology
Active RFID systems continuously broadcast a signal to accurately track guests' real-time location.
Guest Tracking
Identifies in real time where a guest is located.
Table Location Display
Servers can quickly find guests from a digital layout of the restaurant.
To-Go Orders
Customers use the same guest tag as sit-down guests, all you have to do is touch the deliver button on the table location display when their order is ready.
Customized Zones
Create custom delivery zones like "Window" or "Patio" to speed training and avoid confusion.
Dynamic Reporting
Dive into the details to gain more insight on fluctuations, peak periods and percentage of delayed orders.
Specifications
Gateway Transmitter
Carrier Frequency: 865 - 928 MHZ

FCC ID: UL3G100A

RF Output: up to 10 dBm

Range: Up to 700 meters
Charger
3.7 Volts / 500 mA

Power Supply: 110-240 V AC 1.2 A
Admin Reports
Food delivery time

Fluctuations

Peak Periods
Guest Tag Battery
2 x 1.2 V NIM H AAA Rechargeable Batteries

Battery life: 2-3 Years

WARNING: Cancer and Reproductive Harm

Vuze
Length: 4.25 inches (10.79 cm)
Width: 4.25 inches (10.79 cm)
Height: 0.75 inches (1.9 cm)
Weight: 4.30 oz. (0.121 k)

Vuze® Charger
Length: 4.25 inches (10.79 cm)
Width: 4.25 inches (10.79 cm)
Height: 0.8 inches (2.03 cm)
Weight: 4.3 oz. (0.121 k)
Staff Pager Options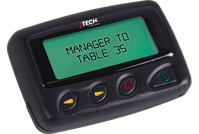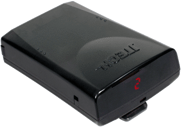 Rugged Pager
Need an Expert
Let one of our Customer Success Managers help you build a warehouse, manufacturing or logistics system tailored to your specific needs. We can provide you with multiple options and a quote with quick shipping and expert 24/7 support.